We are a 501(c)(3) not-for-profit organisation and receive donations from private, public and individual donors that are committed to research transparency.
Gifts from corporations, societies, institutions and foundations as well as individual donors and bequests are welcomed. These donations assist the CBMRT to promote a culture of transparency across all fields of biomedical research.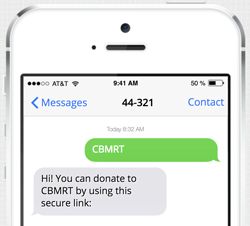 More than 90% of our funding comes from individuals; your support is critical to us. To donate to CBMRT as an individual, please visit our Give Lively donations page here, or text the code CBMRT to phone number 44-321 (US only); you will receive a link to complete your donation, which is tax deductible (tax receipt will be provided).
CONTRIBUTIONS ARE USED FOR CHARITABLE PURPOSES IN SUPPORT OF CBMRT'S MISSION, AND ARE DEDUCTIBLE FOR FEDERAL INCOME TAX PURPOSES (UNITED STATES ONLY) IN ACCORDANCE WITH APPLICABLE LAW. CBMRT is registered for charitable solicitation in New York, New Jersey, Maryland and Georgia. Registration in Massachussetts is pending.
Your support matters
Without visibility into all biomedical research results, including research with inconclusive or negative outcomes, government and philanthropic agencies may find themselves allocating valuable research dollars to projects which are destined to fail.
Transparency into biomedical research results enables scientists and research funding bodies to optimise the effectiveness of research strategies and reduce the lost opportunity of unpublished data and wasted investment in duplicate data.
Summary financial statements will be available upon request.